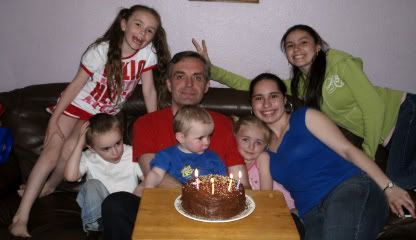 Today is Robert's 46th birthday!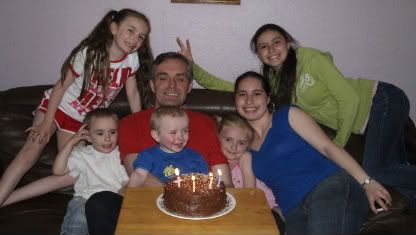 The children all made him presents. I bought a binder and Gabby, Bella & Connor drew pictures for him and of him. Cameron, using acrylic paints and a bit of help from Mommy made handprints for Daddy. Connor, Bella, Gabby, Kayla and Angelica all made lists of ten reasons they love Daddy. Kayla, Angelica and Gabby wrote poems for him, and all of this was put into the binder.
Gabriella, Isabella, Connor and Cameron all made bookmarks for him and painted them pretty colors and patterns. I added the tassles to the bookmarks today. Gabby also painted a canvas picture for him. Her painting was full of flowers with bees and a butterfly. One of the flowers was shaped like a heart.
They all also had some small store-bought gifts for him, but I'm pretty sure it's the homemade ones that will stick in his memory and his heart.
Gabby, Bella and Connor all wanted to perform some songs they made up for his birthday in front of the camcorder as an extra gift for him, so I recorded their songs.
I made him a cake and decorated it for him using my limited artistic skills, and we all sang "Happy Birthday" to him. (I only put 4 candles on his cake because I didn't have 46!)