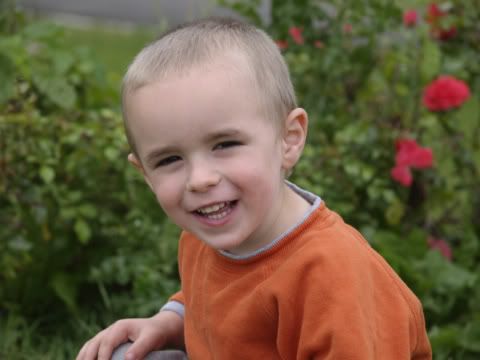 Today is Connor's 3rd birthday. The only things he asked for were a "firetruck and a bus." Robert and I got him a fireman's costume. His Nana and Grandad got him a Fireman Sam firetruck. Cameron gave hima tiny (Hot Wheels-sized) red firetruck. Gabby gave him a Hot Wheels pack that had five emergency vehicles in it (including a firetruck). Isabella gave him a set that included a fire chief's vehicle with an attached trailer. Angelica gave him a Toy Story flashlight, and Kayla gave him a little bus. He even had some gifts to open from his Grandma and Grandpa (having picked them out at the Disney Store yesterday using the money they sent him).
He adored all of his presents, and he smiled all day long. When I took him to the park for photos, he was easy to photograph, because he was in such a happy mood.
We made him a Funfetti birthday cake from Pillsbury that my mom had sent to us (along with Funfetti frosting). I even managed to get his Aunt Leaetta and Uncle Robert to sing "Happy Birthday" with us through the webcam with Skype. He kept trying to blow out the candles ahead of time.